Sorry for the lack of posts recently... school has started to pick up a little and so the homework load has started to take it's tole. I can't really say I've been wearing any good oufits either, which makes me sad.
one thing i don't like about walking to school, is it gets my hair all poufy and unstraight. I straighten it with a flat iron everday before I leave, but the amount of humidity outside and the body heat inside school, has not agreed with my hair. And so everyday it looks like crap. I like this hat I'm wearing, and although we aren't allowed to wear hats to school I'm gonna try and wear it. I saw some girl wear a hat like this the other day, and I don't think they told her to take it off.... I think they just don't want guys wearing them ghetto esque hats they wear. Although I do like how they look on most guys...
Anyways... since i haven't been wearing anything good I'm gonna show you all my collection of awesome t shirts I have. I don't wear them much just because skinny jeans and t shirts are so boring. Does anyone have any ideas on how to wear t shirts in an interesting way? guys have it easy, if they wear skinnies and a t shirt they look so cool. girls, on the other hand, if they wear skinnies and a tshirt its very boring! And I'm mad cuz i like these shirts!
I don't much like the Friday night boys, I only know two songs. And they're good, but they're just a typical punk pop band. Although, Stupid Love Letter is quite funny!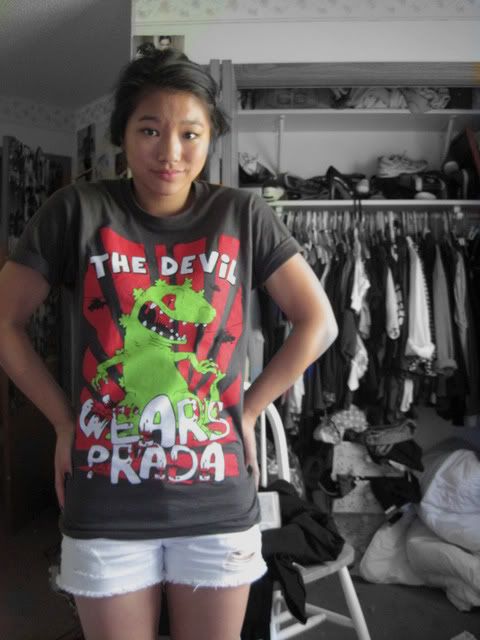 Great band: great movie, but funny the band was named after the movie... I wanna go see these guys in concert cuz they're so sick nasty.
Cobra.... I wanna go see them as well. Gabe is a BABE
This is from Express, and I'm into the whole peacock neon look we got going on here.... but i never wear it for the whole t shirt and jean reason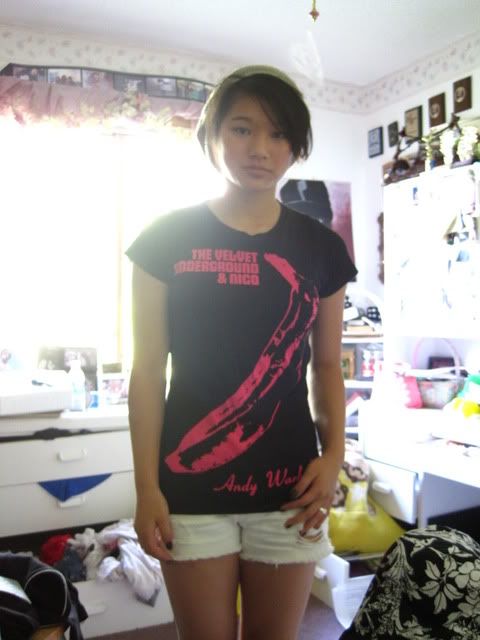 The Velvet Underground with the famous Andy Warhol banana. :]]]]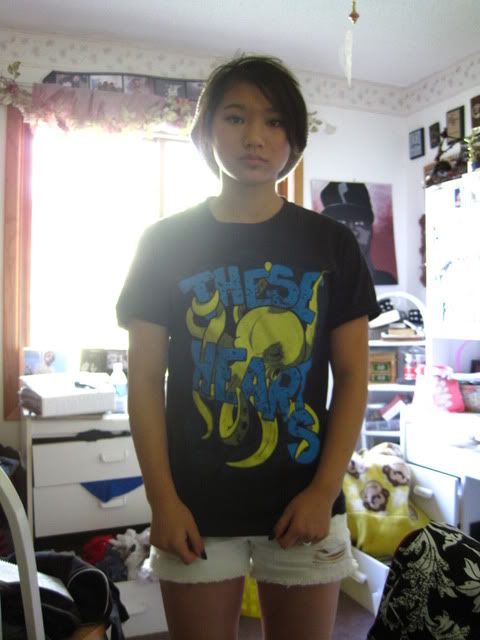 These Hearts are an awesome band... one of those newer bands that are trying to get their name out there. No one really knows them, and so they're not mainstream, which I appreciate. Once something becomes mainstream it gets..... icky haha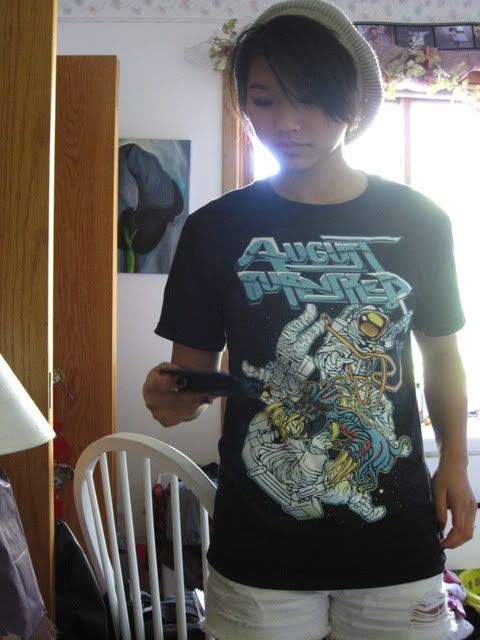 So August burns red was the best concert ever. All the guys are super down the earth, and the crowd action was intense. They're going on tour with Underoath (amazing band)this fall, but do they come anywhere near me?!?!? NOO! and I'm mad.
haha i was texting for this photo... opps
So there's all my favorite t shirts.... any ideas on how to wear them in an intersting way would be appreciated!